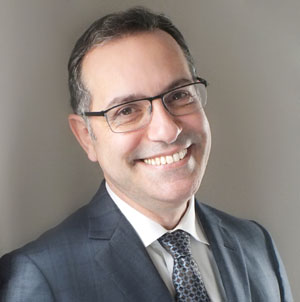 Dr. Alfred Sofer provides custom tailored aesthetic solutions at The Plastic Surgery Center of Fairfield, CT and in his Manhattan, NY office. Dr. Sofer is a board certified, multiple award-winning physician who has devoted his practice to fulfilling the body image needs of a very grateful clientele in the Tristate East Coast area. Alfred Sofer offers a perfect balance of experience, education and innovation that has patients raving about their outcomes from surgery of the breast, body and face.
Dr. Sofer knows how self-esteem, confidence and quality of life can be drastically improved using appropriate aesthetic interventions. He takes pride in connecting his patients' highly individual needs with the ideal medical therapy to achieve optimally satisfying results. Dr. Sofer is guided by his strong belief that all patients must be treated with kindness, respect and honesty throughout the treatment process. Furthermore, the doctor always makes himself available to patients every minute of every day as further proof of his unrivaled devotion to his profession and his loyal clientele. However, the doctor's main priority is that all patients receive quality treatment with their complete safety and best interests in mind.
Dr. Alfred Sofer Education and Training
Dr. Sofer received his Bachelor of Science degree from the illustrious Columbia University before earning his medical degree from Albany Medical College. Alfred Sofer completed his medical residency at Westchester Medical Center and earned the title of Chief Resident in General Surgery at the same facility. Dr. Sofer then focused on the aesthetic sector by completing a fellowship in plastic surgery at the Medical Universality of South Carolina. He once again earned the title of Chief Resident of Plastic Surgery at this institution. Dr. Sofer also completed a hand and micro-vascular surgery fellowship at the prestigious Christine M. Kleinert Institute.
Dr. Sofer is certified by the American Board of Plastic Surgery and has been a practicing plastic surgeon for over 15 years. During this time, Dr. Sofer has graciously volunteered his services to Operation Smile, when he traveled to Morocco to perform free corrective procedures on children who were affected by the mind and body ravages of cleft lips, cleft palates and other facial abnormalities.
Professional Affiliations
Alfred Sofer maintains affiliations with several major medical associations and has been granted physician rights at several notable hospitals:
Member of The American Society of Plastic Surgeons
Member of The American College of Surgeons
Member of The American Medical Association
Member of The Connecticut Medical Society
Member of The Fairfield Medical Society
Chief of Plastic Surgery at St. Vincent's Medical Center Bridgeport, CT
Norwalk Hospital, Norwalk, CT
Stamford Hospital, Stamford, CT
Past Board of Directors Member at The Surgical Center of CT
Dr. Alfred Sofer Accolades
Dr. Sofer has been widely recognized for his professionalism, talent, creativity and devotion. He has earned the following awards during his medical career:
Castle Connolly Top Doctor in the Field of Plastic Surgery in Metro NY
Voted Top Surgeon by Consumer's Research Council of America
Patient Choice Award, "Patient's Favorite Doctor", 2010-2015
Fairfield County Top Doctor in Plastic Surgery, 2016
Fairfield Weekly Readers Poll "Best Cosmetic Surgeon", 2010-2013
Fairfield Weekly Readers Poll "Best Laser Hair Removal", 2011
Medical Services
Dr. Sofer is proud to offer the full range of breast surgery techniques, including implant placement, mastopexy, reduction mammoplasty and reconstruction mammoplasty. He also offers general cosmetic procedures for the face and body, as well as skin care products and services. His state-of-the-art clinic is fully equipped and allows patients the chance to see their expected results using the virtual technology offered by the Vectra 3D Imaging System. This tool really helps patients to make enlightened decisions prior to their operations.
The Plastic Surgery Center of Fairfield, CT accepts a range of payment options and even participates in surgical financing programs to facilitate treatment for patients of all income levels.
Contact
The Plastic Surgery Center of Fairfield
33 Miller Street
Fairfield, CT 06824
(203) 336-9862
drsofer.com