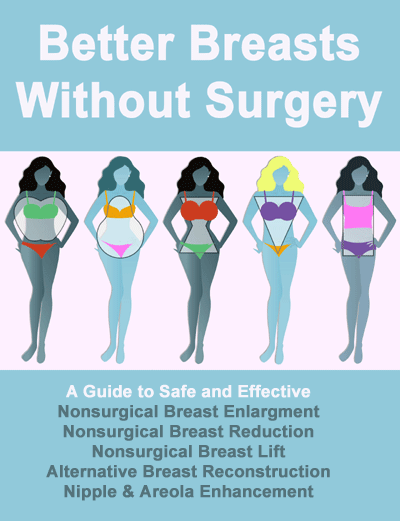 ---
Our Better Breasts Without Surgery ebook shows you exactly how to enhance your breasts without the costs or risks of plastic surgery. The ebook features sections covering nonsurgical breast enlargement, nonsurgical breast reduction and nonsurgical breast lift, as well as special sections covering alternative forms of breast reconstruction, as well as nipple and areola enhancement.
Plastic surgery is a great solution for many people with a wide range of body image goals. However, the surgical path is not always practical, affordable or even possible for every person with a strong desire to improve their breasts. Therefore, we have created this wonderful ebook to teach you all of the most effective ways to get Better Breasts Without Surgery.
No matter whether you want your breasts to be larger, smaller or lifted, we provide the best techniques to accomplish your goals without plastic surgery. If you require breast reconstruction, inverted nipple correction, nipple enlargement, nipple reduction, areola enlargement or areola reduction, we provide the best practices to accomplish these goals, as well.
There are many scam products and practices in the nonsurgical breast enhancement industry. We review all of your options for nonsurgical breast enhancement and point you towards the ones that actually work and are safe to use. We are your personal consumer protection service, making sure that you do not waste time or money when purchasing nonsurgical breast enhancement products or services. We also work to safeguard your health. Since we do not sell any of these products or services, or participate in any affiliate schemes, you can trust us to review every option objectively and honestly. We have been the leading online breast health resource for over a decade and our experience will help you to get the breasts you truly want!
As an added bonus, we have also packaged our best selling ebook: Plastic Surgery Horrors and Hopes along with our Better Breasts Without Surgery ebook. Enjoy Plastic Surgery Horrors and Hopes as our gift to you, just in case you do decide that plastic surgery might be right for you in the future.
---
Get both E-books for the incredible price of only $9.99


All orders processed on 100% secure servers.
Immediate download.

---
Plastic Surgery Horrors and Hopes is a must read for anyone who is interested in plastic surgery. This ebook will guide you through the surgical process from planning to recovery and provide an unprecedented inside look at the cosmetic surgery industry. The program will save you money, minimize your risks and optimize your results. Do not invest in surgical services without reading this book first!
---
Plastic Surgery Horrors and Hopes Includes:
How to choose the best surgeon
How to plan your surgical procedure
How to minimize risks and avoid complications during surgery
How to improve mental and physical health for a speedy recovery
How to save lots of money on plastic surgery, including some insider secrets!
The Top 10 Tips you must know before undergoing surgery
---
Actual Reader Reviews:
I bought Better Breasts Without Surgery after considering plastic surgery and becoming very frightened of many of the risks, including scarring on my breasts. I used the book to enlarge the size of my breasts naturally and with methods that actually made me healthier! I am so happy that I found this book. It has so much great information and is really simple to follow and get great results. Thank you for this wonderful book!
Sally Rivers, New York, New York
Better Breasts Without Surgery is the book you need to make your breasts larger without implants. I used the book to increase my cup size from a 32B to a full 32C. I am so happy with my results. There were so many options for me to try, so I combined a few and think that I look great now. My body is just so much more proportionate and I am really confident. Thanks for helping me to get the breasts I wanted without surgery.
Paula Travertina, Baltimore, Maryland
As a transgender person, I really wanted to be rid of my breasts completely in order to make my body appear to be more masculine. Breast reduction is just so expensive and my breasts are not really large anyway. I wanted to try to decrease them to a really small size without surgery and this book helped me to do it. I found that a conservative program of diet, weight loss and exercise detailed in the book really worked well, but when supplemented with breast liposuction, I am so pleased. I feel so much better in my own skin now and am working to transition completely into a male body. Thanks for the help, Breast-Plastic-Surgery.Org. I recommend this book to anyone who wants to increase, decrease or lift their breasts, regardless of their motivation for doing so.
Thom Tubin, San Diego, California
After giving birth and breastfeeding, my breasts and nipples really took a beating. They were starting to sag, despite being small. I was devastated and inquired with a local cosmetic surgeon about breast lift. The procedure was so expensive and would really damage my breasts. I did not like the fact that I might lose the ability to breastfeed again and that my sensitivity would likely decrease. I just wanted a bit of a lift, but it seemed that the surgical route was more complicated than it needed to be for me. I tried this book after floundering around on my own without success for a few months. I immediately revised my plan and tried some of the nonsurgical lift recommendations with great results! My body looks better. I feel better. My whole life is better and my husband loves my breasts more than ever. This book is worth the money and more. I can not thank you enough for helping me.
Rinny Samuels, Jacksonville, Florida
I am a big girl. I have always been big. I began to get really bad back pain at around 38 and it spread to my neck and shoulders soon after. My doctor suspected that my "girls" size 44E were responsible. Breast reduction was too expensive for me and I did not really like the idea of it. Instead, I tried a combination of nonsurgical and minimally invasive surgical techniques and now, my breasts are a much more manageable size of 38C. Better yet, I lost quite a bit of weight naturally on the program and now am still working on improving myself. Yes, my back pain is fully gone and I can focus on my work, family and fitness now more than ever. Great book and I had great results. Thanks!
Dyann Robinson, Marseille, France
I bought and read Plastic Surgery Horrors and Hopes before undergoing breast reduction surgery. I learned so much and credit the book with helping me to find the best surgeon and actually changing my mind on the type of procedure I wanted. I am thrilled with my results and highly recommend this book to all men and women who are thinking about aesthetic surgery. I also saved over $1000 dollars on my procedure!
Jill Forrester, Van Nuys, CA
Plastic Surgery Horrors and Hopes is a great book. I used it to revise my treatment strategy for reconstructive breast surgery and thank the author for opening my eyes to some of the risks of plastic surgery that I had never considered. Armed with new knowledge, I was able to get my work done and am so pleased at the outcome. Not reading this book is foolish, considering the investment of time and money people put into their plastic surgery journeys.
Rochelle Rizzo, Chicago IL
Plastic Surgery Horrors and Hopes was a gift to me from my husband. He was worried that I was on the wrong path with my surgical goals and pleaded with me to hold off until I read the book. I was so stubborn and knew what I wanted, but I read it to make him happy. The book is charming and an easy read. However, I was not prepared for the effect it would have on me and my surgical journey. Using the information in Plastic Surgery Horrors and Hopes, I completely revised my surgical plans. I changed the doctor I was going to use, the procedure I was going to get and implemented many of the tips provided in the book. I felt more confident and my husband gave me his blessing for undergoing my new path towards fulfillment. I am so happy with how things worked out and I saved $1700 from my original plan. Five months later, I learned that the surgeon I was originally going to use had lost his license due to malpractice. He actually hurt many patients and was being sued. I never would have known about this, but Plastic Surgery Horrors and Hopes taught me that this doctor demonstrated some warning signs that made me look elsewhere for quality care. I can't imagine what my life would have become if I was another victim. Thank you for putting me on a safer path. You are the best!
Kimberly Dale, Orlando, FL
I am a guy who suffered with gynecomastia for many years. My life was a hell of teasing and insecurity. I never knew what options I had, but Plastic Surgery Horrors and Hopes taught me so much. I corrected the embarrassing condition and feel much more positive about my body. My life is a million times better now. This was the best money I ever spent (since I saved $800 on my procedure) and I recommend Plastic Surgery Horrors and Hopes to everyone who has a body image problem or those who are seeking any type of plastic surgery. You will not be disappointed.
Thomas Fullerton, Jersey City, NJ
---
Join thousands of other satisfied plastic surgery consumers who have benefited from this inspiring book. Understand how to become truly beautiful on the outside and feel equally amazing on the inside. Get the most value for your money. Prevent the most common pitfalls involved in elective cosmetic surgery and reconstructive plastic surgery procedures. Learn vital tips that can save your life!
Get Both E-Books for a Limited Time Only!

A great value at only $9.99
All orders processed on 100% secure servers.
Immediate download.