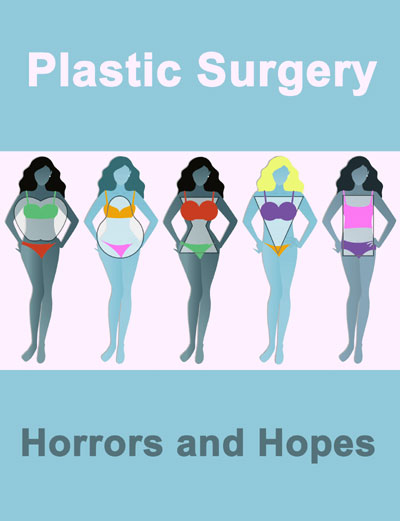 ---
Plastic Surgery Horrors and Hopes is a must read for anyone who is interested in plastic surgery. This book will guide you through the surgical process from planning to recovery and provide an unprecedented inside look at the cosmetic surgery industry. The program will save you money, minimize your risks and optimize your results. Do not invest in surgical services without reading this book first!
---
Plastic Surgery Horrors and Hopes Includes:
How to choose the best surgeon
How to plan your surgical procedure
How to minimize risks and avoid complications during surgery
How to improve mental and physical health for a speedy recovery
How to save lots of money on plastic surgery, including some insider secrets!
The Top 10 Tips you must know before undergoing surgery
---
Actual Reader Reviews:
I bought and read Plastic Surgery Horrors and Hopes before undergoing breast reduction surgery.  I learned so much and credit Sensei Adam with helping me to find the best surgeon and actually changing my mind on the type of procedure I wanted.  I am thrilled with my results and highly recommend this book to all men and women who are thinking about aesthetic surgery. I also saved over $1000 dollars on my procedure!
Jill Forrester, Van Nuys, CA
Plastic Surgery Horrors and Hopes is a great book.  I used it to revise my treatment strategy for reconstructive breast surgery and thank the author for opening my eyes to some of the risks of plastic surgery that I had never considered.  Armed with new knowledge, I was able to get my work done and am so pleased at the outcome.  Not reading this book is foolish, considering the investment of time and money people put into their plastic surgery journeys.
Rochelle Rizzo, Chicago IL
Plastic Surgery Horrors and Hopes was a gift to me from my husband.  He was worried that I was on the wrong path with my surgical goals and pleaded with me to hold off until I read the book.  I was so stubborn and knew what I wanted, but I read it to make him happy.  The book is charming and an easy read.  However, I was not prepared for the effect it would have on me and my surgical journey.  Using the information in Plastic Surgery Horrors and Hopes, I completely revised my surgical plans.  I changed the doctor I was going to use, the procedure I was going to get and implemented many of the tips provided by Sensei Adam Rostocki in the book.  I felt more confident and my husband gave me his blessing for undergoing my new path towards fulfillment.  I am so happy with how things worked out and I saved $1700 from my original plan.  Five months later, I learned that the surgeon I was originally going to use had lost his license due to malpractice.  He actually hurt many patients and was being sued.  I never would have known about this, but Plastic Surgery Horrors and Hopes taught me that this doctor demonstrated some warning signs that made me look elsewhere for quality care. I can't imagine what my life would have become if I was another victim. Thank you, Sensei Adam for putting on a safer path.  You are the best!  
Kimberly Dale, Orlando, FL
I am a guy who suffered with gynecomastia for many years.  My life was a hell of teasing and insecurity.  I never knew what options I had, but Plastic Surgery Horrors and Hopes taught me so much. I corrected the embarrassing condition and feel much more positive about my body. My life is a million times better now.  This was the best money I ever spent (since I saved $800 on my procedure) and I recommend Plastic Surgery Horrors and Hopes to everyone who has a body image problem or those who are seeking any type of plastic surgery. You will not be disappointed. 
Thomas Fullerton, Jersey City, NJ
---
Join thousands of other satisfied plastic surgery consumers who have benefited from this inspiring book.  Understand how to become truly beautiful on the outside and feel equally amazing on the inside. Get the most value for your money.  Prevent the most common pitfalls involved in elective cosmetic surgery and reconstructive plastic surgery procedures. Learn vital tips that can save your life!
A great value at only $9.99
All orders processed on 100% secure servers.