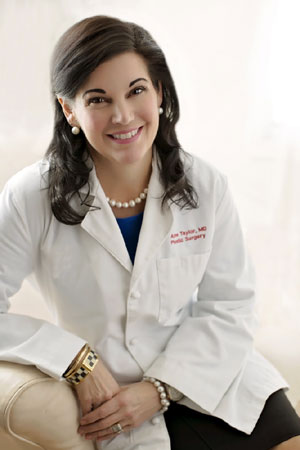 Dr. Anne Taylor, founder of Aesthetica Surgery & Spa, aspires to offer advanced medical spa procedures to residents near Columbus, OH, while simultaneously providing services supervised by a board-certified plastic surgeon.
Dr. Taylor is an Ohio native with a distinctive desire for taking care of patients and one of the things she loves most about her job is connecting with people. She takes the time to put anyone at ease by building the foundation of a trusting relationship.
Some of her featured and most popular cosmetic procedures include breast augmentation, breast lift, and body contouring. For more details or a consultation with Dr. Taylor at Aesthetica Surgery & Spa, please visit her online today for more information.
Dr. Taylor Education and Training
Dr. Taylor's education and surgical training provided the groundwork for her distinguished career spanning almost two decades. After graduating summa cum laude with a biology degree from Denison University, Dr. Taylor enrolled at The Ohio State University College of Medicine. She earned her degree and then completed 6 years of residency training in both plastic and general surgery at Ohio State.
Denison University
The Ohio State University College of Medicine
Residency: Transitional, Riverside Methodist Hospitals
Residency: The Ohio State University Hospital
Anne Taylor Professional Affiliations
American Board of Plastic Surgery
American Society of Plastic Surgeons (ASPS)
American College of Surgeons
American Association of Plastic Surgeons
American Society of Aesthetic Plastic Surgeons (ASAPS)
American Medical Association (AMA)
American Society for Aesthetic Plastic Surgery
Columbus Society of Plastic Surgeons
Ohio State Medical Association (OSMA)
Columbus Medical Association (CMA)
Ohio Valley Society of Plastic Surgeons (OVSPS)
State of Ohio Medical Board
Dr. Taylor's Personal Philosophy
Dr. Taylor places abundant value on her client consultations and highly encourages her patients to share their questions and concerns about the procedures and their reasons for seeking cosmetic enhancement. She provides an uncommon degree of responsiveness from a woman's perspective that truly resonates with her patients. Combining anatomy and artistry, 2 of her life passions, plastic surgery subsequently appealed to Dr. Taylor early in life during the pursuit of her medical career.
Contact Dr. Anne Taylor
Aesthetica Surgery & Spa
7227 North High Street #256
Worthington, OH 43085
(614) 569-2649