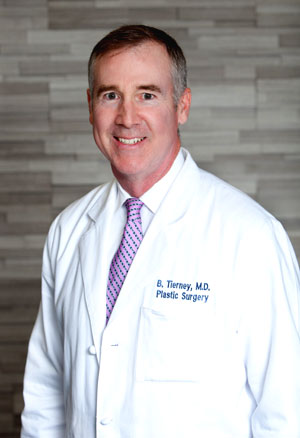 Dr. Brian P. Tierney is a popular plastic surgeon in the Nashville, Tennessee medical market who specializes in breast augmentation. He is certified by The American Board of Plastic Surgery, placing him in an elite group of surgical care providers who meet the strictest standards for quality and excellence.
Dr. Tierney consistently receives rave reviews from his many appreciative clients. Patients describe him as a great communicator, making them feel at ease when discussing their body image aspirations. Dr. Tierney always says that it is important to help patients to understand their many options when it comes to cosmetic surgery. Furthermore, he also states that discussing the risks and limitations of plastic surgery is just as important as looking ahead to the benefits, since a balanced view of each procedure provides more realistic and rewarding client outcomes.
We are delighted to help Nashville area patients get to know more about Brian P. Tierney, M.D. and his medical spa, which is conveniently located right next door to Saint Thomas Midtown Hospital. After more than 20 years in practice, Dr. Tierney has much to offer Nashville patients with a wide range of aesthetic needs.
Dr. Brian P. Tierney Credentials
Brian P. Tierney graduated with a Medical Doctor Degree from Northeast Ohio Medical University. After finishing school, Dr. Tierney first undertook a general surgery residency at Akron City Hospital before traveling to The University of Louisville, where he spent time honing his skills during a competitive plastic and reconstructive surgery residency.
After completion of his post-graduate training, Dr. Tierney worked as an Assistant Professor of Plastic Surgery at the University of Louisville, while simultaneously enhancing his surgical skills at the University Surgical Associates practice. Dr. Tierney fondly remembers his role as an educator of young doctors, since it kept him fully up-to-date on the latest products and techniques in his beloved aesthetic surgery industry. Dr. Tierney makes sure to stay current on the state of the industry to this day, as he knows the importance of offering the latest medical developments to his patients.
Brian P. Tierney, M.D., is a member of The American Society of Plastic Surgeons, as well as The Tennessee Medical Association. Dr. Tierney is on staff at St. Thomas Midtown Hospital and Centennial Medical Center, in addition to maintaining physician privileges at Baptist Plaza Surgicare.
Dr. Brian P. Tierney Plastic Surgery Services
Dr. Tierney is widely known as a breast augmentation specialist. He offers an extensive selection of implants and procedural choices to provide perfect, natural-looking results for every woman. However, Brian P. Tierney, M.D., also offers a diversity of other breast-targeting surgical techniques, including mastopexy, reduction mammoplasty and reconstructive mammoplasty following mastectomy or breast lump removal.
Brian P. Tierney also provides general cosmetic surgery services for face and body. To improve the countenance, he offers rhytidectomy for full face and brow treatment, chin and ear surgery and focuses on eyelid surgeries for dramatic improvements in facial youthfulness using the least invasive methods of care. For anatomical form enhancement, Dr. Tierney provides tummy tucks and liposuction therapy, often combining various modalities of care during mommy makeover procedures.
Dr. Tierney also offers a selection of the finest minimally and noninvasive treatments for skin and general aesthetic enhancement, including the revolutionary ThermiRF, which can reduce fat and tighten skin without surgery, as well as an assortment of wrinkle prevention and treatment options using many therapeutic interventions.
Contact Dr. Brian P. Tierney
Nashville-area patients have many choices when it comes to plastic surgeons. Dr. Tierney is ranked among the best in his field in Nashville and consistently rates in the upper echelon in patient satisfaction surveys. Dr. Tierney's beautiful and natural results have provided him with a steady supply of clients for over 2 decades and his practice is still growing. These facts are very much a testament to the man and his devotion to a truly noble medical specialty.
Prospective patients are invited to consult with the doctor to learn about the ideal aesthetic treatments for their needs. Dr. Tierney will happily arrange a custom treatment program of invasive and/or noninvasive therapies to address specific anatomical concerns or simply improve the general appearance of face and/or body.
The Tierney Plastic Surgery Clinic is fully staffed by friendly and helpful administrative experts who can help patients with all their pre-surgical paperwork, as well as provide detailed information on various surgical financing products. Financing is a great way for patients to enjoy the benefits of plastic surgery right now, while paying off the fees over time via easy to manage installments.
Do not wait any longer to achieve your vision of the ideal you. Call Dr. Tierney today and visit him to discover how he can make you look and feel great.
Tierney Plastic Surgery
2004 Hayes Street #315
Nashville, TN 37203
(615) 320-8585
tierneymd.com