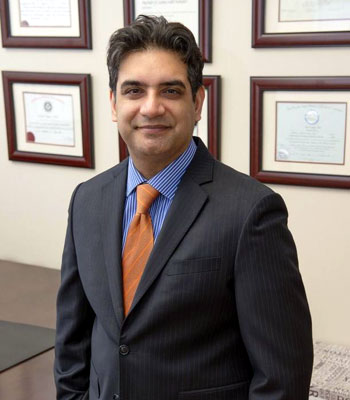 Dr. H. Ukani is an excellent plastic surgeon serving the greater Vancouver, BC area at the technologically-advanced False Creek Surgical Centre. Dr. Ukani has a well-earned reputation as a specialist in various forms of aesthetic and reconstructive breast surgery, but also offers a range of general plastic surgery and skin enhancement services to satisfy patients with all manner of body image aspirations.
Dr. Ukani is truly an expert in breast augmentation, offering an extensive selection of surgical options, including different implant types and filler materials, a diversity of incision placement choices and a plethora of anatomical positioning possibilities. Dr. Ukani is also well versed in organic breast surgery using lift techniques and reduction procedures to address ptosis, as well as other age and size-related mammary problems. For patients who want the best of both worlds, Dr. Ukani can combine augmentation and breast lift for truly spectacular results that will satisfy even the most particular client. Finally, the doctor is also a specially-trained provider of the finest breast reconstruction techniques following traumatic breast injury or for post-mastectomy repair.
While Dr. Ukani's skills speak volumes for themselves, let's take a closer look at the man and his practice in the Vancouver medical market.
Dr. H. Ukani Education and Training
Hanif Ukani began his higher educational journey at Queen's University, where he earned a Degree in Life Sciences. He decided to pursue a medical education and chose the esteemed University of Calgary where his time and effort resulted in a Medical Doctor Degree. Postgraduate internships and residency were completed at McGill University, where the doctor spent five more years honing his plastic and reconstructive surgery skills.
While these credentials are already remarkable, Dr. Ukani decided to build his knowledge and expertise by relocating to America to work alongside noted experts in the plastic surgery field, while simultaneously diversifying his certifications in microsurgery and cosmetic surgery. During these 2 years, he also held positions on the faculty at The University of Nevada and at The MD Anderson Cancer Center in Texas, where he concentrated on acquiring niche skills in cancer-related breast reconstruction.
It is clear that Dr. Ukani has dedicated himself to achieving the highest level of surgical skills in order to best serve his clients' highly specific needs.
Dr. H. Ukani's Surgical Practice
The doctor is a recognized fellow of the Royal College of Physicians and Surgeons, Canada. He is also an active member of The Canadian Society of Plastic Surgeons, as well as The Canadian Society of Aesthetic Plastic Surgery.
Dr. Ukani is the Head of the Division of Plastic Surgery at both Eagle Ridge and Royal Columbian Hospitals, as well as the President of the Medical Staff Association at Royal Columbian. He is also a staff member at Surrey Memorial Hospital. The doctor is associated with the University of British Columbia, where he has been honored with an academic appointment.
Dr. Ukani provides charitable contributions of his time and expertise to Operation Rainbow Canada. This nonprofit organization facilitates aesthetic surgery for underprivileged and underserved people across the globe. Dr. Ukani is very enthusiastic about his work with the organization and cites it as providing some of his best life experiences to date.
Hanif Ukani is currently performing the majority of his plastic surgery work out of the advanced False Creek Surgical Centre, which offers the best of everything to patients from the regional area of Vancouver. His practice utilizes Crisalix 3-D virtual reality technology, which helps patients to visualize how they will look after surgery using specialized computer modeling and anatomical simulations. This tool is excellent for helping clients make quality, informed choices when it comes to various plastic surgery options, such as breast implant placement, size and profile. Dr. Ukani is also an advocate for The Keller Funnel and uses this innovative device to place most of his silicone breast implants, allowing for smaller incisions, less scarring and better outcomes with reduced infection and complication rates.
Consult with Dr. H. Ukani
Although based in Port Moody, Dr. Ukani sees patients from all over the greater Vancouver area and beyond, including many clients who hail from the nearby communities of Langley, New Westminster and Surrey. Most of the local people know and respect the False Creek Healthcare Centre, which houses the False Creek Surgical Centre. This completely accredited facility is recognized by The College of Physicians and Surgeons of British Columbia. The Healthcare Centre provides complete private hospital services, adding a huge measure of safety to the plastic surgery operations performed there. With more than 5 dozen physicians on staff, patients are assured of receiving prompt, expert care if they require any attention from a specialist in any medical focus.
Please contact Dr. Ukani's office today to make an appointment for your individual consultation. The doctor will happily take the time to talk with you in depth about your aesthetic objectives and help chart a path to make these goals become reality.
Dr. H. Ukani
201-2502 St. Johns Street
Port Moody, BC V3H 2B4
(604) 931-1893
plasticsurgerybc.ca