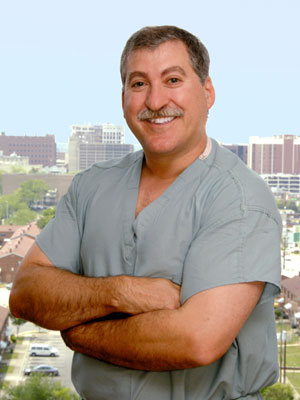 Dr. Michael S. Beckenstein is a Birmingham, Alabama-based plastic surgeon who specializes in breast augmentation and reconstruction. He is also the developer of an incredibly unique and enlightened treatment facility called The Alabama Breast Cancer Cooperative.
It is obvious that Dr. Beckenstein views his practice as more of a calling than simply a vocation. He always refers to patients by their names and sees them as more than merely clients. Instead, he views them as vibrant, living beings who are in desperate need of the kind of assistance that only plastic surgery can provide. Dr. Beckenstein considers it his mission to educate people about all their procedural options and facilitate the highest quality of treatment towards fulfilling their most lofty body image aspirations. Best of all, Dr. Beckenstein relishes the challenge that each patient presents and views every opportunity to help as a gift for both the client, as well as himself.
Patients in Birmingham, Montgomery, Tuscaloosa, Huntsville and throughout the Gulf Coast can benefit greatly from the humanitarian services provided by Dr. Beckenstein. We are inspired by his practice and feel fortunate to share his story.
Dr. Michael S. Beckenstein Educational Accomplishments
Michael S. Beckenstein earned his Bachelor of Science Degree in Biology from Union College in his home state of New York. He pursued a career in medicine by completing his M.D. Degree from Eastern Virginia Medical School.
Dr. Beckenstein undertook an internship and general surgical training at Saint Barnabas Medical Center in New Jersey, where he was awarded The Herbert Schulte Award for Clinical Excellence. This early accolade set the tone for many more honors to come. Dr. Beckenstein then distinguished himself during a plastic surgery residency at Case Western Reserve University in Ohio. However, he was far from finished when it came to gaining additional skills towards his career focus. To deepen his levels of proficiency in breast and aesthetic surgery, Dr. Beckenstein completed a fellowship at the Breast Reconstruction Foundation in Atlanta, Georgia. He then went on to train in aesthetic and reconstructive breast surgery at the esteemed Georgetown University. Finally, Michael S. Beckenstein pursued a fellowship in breast reconstruction and aesthetic surgery in Birmingham, Alabama and fell in love with the location. It is no surprise that he decided on Birmingham as the site of his own private practice. During all of these experiences, Dr. Beckenstein was fortunate to be mentored by some of the finest and most renowned surgeons in the plastic surgery arena.
Michael S. Beckenstein, M.D., is certified by The American Board of Plastic Surgery and The American Board of Surgery. He is an enthusiastic member of The American Society of Plastic Surgery, The American Society for Aesthetic Plastic Surgery and is a Fellow of the American College of Surgeons. Dr. Beckenstein has been granted numerous awards in the press, the number of which is far too large to be mentioned here individually. Let it suffice to say that his work has been widely heralded and recognized as being the best of the best in his field.
Dr. Michael S. Beckenstein Surgical Services
Dr. Beckenstein is an excellent all-around plastic surgeon. He offers procedures that target the aesthetics of face and body, including tummy tuck, post-bariatric surgery tissue tightening, liposuction, face and eyelid lift, wrinkle treatments, hair restoration and general skin care. However, he truly distinguishes himself as a breast augmentation and reconstruction expert, which constitutes the majority of his practice focus.
Michael S. Beckenstein, M.D., is proud to offer breast lift, breast reduction and a wide range of cosmetic breast enlargement techniques to help women find the perfect bodily form to suit every psychoemotional need. It is his work with breast reconstruction that is the most memorable to us, and we decided to highlight it in the dedicated section below.
The Alabama Breast Cancer Cooperative
With more than 10 years of development, Dr. Beckenstein created The Alabama Breast Cancer Cooperative. This facility represents the state of the art in breast cancer care from a multi-disciplinary point of view. The facility offers cancer diagnostics, oncology, radiation, oncologic breast surgery, organic tissue and implant-based breast reconstruction, counseling, focused physical therapy, nutritional support and lymphedema care for complete mind, body, spirit treatment. Patients have the option of immediate or delayed mastectomy reconstruction of one or both breasts. Every effort is made to treat patients in a supportive, compassionate and empathetic atmosphere, as well as providing each with world-class medical evaluation and treatment to create the ideal therapeutic outcomes.
Consult with Dr. Michael S. Beckenstein
Patient education is stressed throughout the pre-surgical consultation process. Dr. Beckenstein regularly sees prospective clients 2 or more times prior to them undergoing treatment. He finds it incredibly important to inform patients of the positive and negative attributes of any proposed treatment. This approach to care has proven itself to be well-received, as patients rave about their results, as well as the personal treatment they enjoyed from Dr. Beckenstein as people, and not simply as clients.
The office offers a variety of available financing options and Dr. Beckenstein is proud to announce that his fees have recently been reduced, thanks to a decrease in the cost of anesthesia services that he recently negotiated. Contact Dr. Beckenstein now and move forward with your body image dreams.
Michael S. Beckenstein, MD
800 Saint Vincents Drive #610
Birmingham, AL 35205
(205) 933-9308
msbmd.com