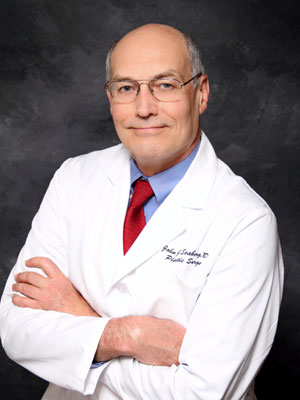 When it comes to plastic surgeons in Columbia, Missouri, one name stands out among the finest care providers in the region, embodying caring, trust, experience and innovation: Dr. John J. Seaberg. At his state-of-the-art clinic, Dr. Seaberg offers a full range of breast surgery techniques, including augmentation, implant revision, reduction, mastopexy and reconstruction. Patients can also choose from many additional procedures to enhance face and body, including a selection of simple, affordable injection-based treatments that can create a flawless complexion.
Although known for his exemplary results and technical expertise, Dr. John J. Seaberg also places emphasis on his unique ability to communicate with patients to ensure that they receive the best quality of care to fully satisfy all of their body image goals. Dr. Seaberg generously offers his time to answer patient questions and often meets with patients multiple times before actually scheduling surgery.
Dr. Seaberg is just as concerned with patient safety as he is on delivering the best surgical results. His in-office surgical suite is outfitted with the latest cutting edge technology and can be used to conveniently treat patients using a diversity of cosmetic therapies. However, being that his office is located directly next to the esteemed Boone Hospital, the doctor can offer even the most invasive types of care safely. In fact, he performs all of his general anesthetic techniques in this modern medical center. Besides enjoying active staff status at Boone Hospital, Dr. John Seaberg has also been granted active staff status at The Surgery Center of North Central Missouri in Moberly and consulting staff status at St. Mary's Health Center in Jefferson City.
Dr. John Seaberg Education and Training
Dr. Seaberg was inspired to pursue a medical career as a teenager and realized his dream when he graduated from The University of Oklahoma College Of Medicine. Dr. John Seaberg began his medical career at the large and busy Dakota Clinic, Ltd, in Fargo, North Dakota, honing his skills in plastic surgery before opening his own dedicated practice in 1992.
Dr. Seaberg has been a practicing plastic surgeon for over 25 years. In these many years of providing impeccable medical services, Dr. Seaberg has realized the importance of listening to his patients both before and after treatment, helping to distinguish him among his peers. His formal education and practical experience have provided him with the medical talents and life skills that are so important for an aesthetic physician to possess.
Education Synopsis:
Adams State College (Alamosa, Colorado)
University of Oklahoma BS Chemistry
University of Oklahoma, College of Medicine MD
Residency Experience:
General Surgery University of Missouri (Chief Resident)
Plastic Surgery University of Missouri (Chief Resident)
Dr. Seaberg Medical Societies and Affiliations
Dr. John J. Seaberg maintains close ties with several medical organizations and continually updates his practical skills by learning and perfecting all the latest approaches to care in the aesthetic sector. Dr. Seaberg holds certifications from The American Board of Surgery and The American Board of Plastic Surgery, as well as being a member of the following medical societies:
American Association for Hand Surgery, Active Member since 1990
American Society of Plastic Surgeons, Active Member since 1989
American College of Surgeons, Fellow since 1992
Contact John J. Seaberg, MD, FACS
1601 East Broadway #260
Columbia, MO 65201
(573) 443-5500
drseaberg.com