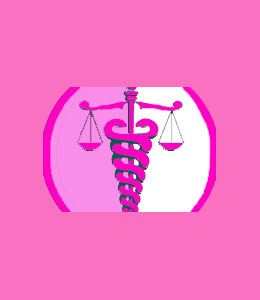 There is a growing product and service industry that is focused exclusively on nonsurgical breast enlargement.
Unfortunately for many patients, this is often a questionable and unregulated sector, hovering on the borderline between legitimate and fraudulent breast augmentation products and services.
Patients are advised to take care with their health, and their wallet, when researching alternative nonsurgical modalities of increasing breast size.
This guide explains some of the most common methods of noninvasive breast enlargement.
Nonsurgical Breast Enlargement Cautions
There are a wide variety of methods used to enlarge breasts without surgery. Some of these methods are tried and true, while others follow the unethical legacy of the snake oil salesman.
If a product or service seems too good to be true, then it probably is not legitimate.
If there was a real solution to achieve surgical quality results from a nonsurgical breast augmentation technique, everyone would use it.
A few non-invasive enhancement modalities work very well for most women. Some methods achieve marginal results, which may be fine for women seeking to increase their breast size by a small amount. Many products do nothing at all and some might even be harmful to your health or breast tissue.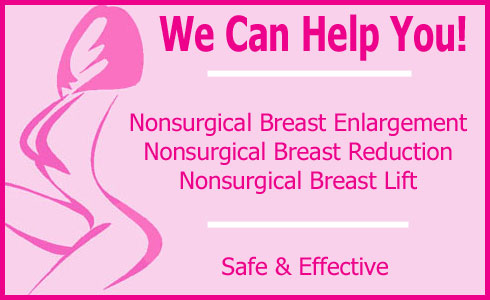 Nonsurgical Breast Augmentation Methods
The basic options when it comes to nonsurgical breast enlargement products and supplements include:
Topical products including breast enlargement creams, oils, lotions, ointments, salves. Some products are based on sound medical or herbal ingredients that are known to increase breast size in small amounts. Other products are simply a waste of time and money.
Breast exercises can help to build muscular support and tone. Exercise will not build more breast tissue, but will help to provide better support for breasts and might even provide a minor lift effect.
Push up bras, prosthetic breasts and bra pads will give the illusion of breast enhancement. Obviously, these products do nothing to alter the actual body, but only provide the appearance of larger breasts, when dressed.
Laser breast surgery is used to stimulate breast tissue and growth. Innovative new technologies might cause natural breast tissue to expand or multiply.
Electrostimulation is often utilized to produce breast tissue changes and growth. Electric therapy is used for many medical and health uses and is very controversial, despite its popularity among practitioners.
Hormone therapy might increase breast size, but can be a health risk to some women. Extreme care should be exercised using hormones.
Breast slapping is a novel Thai approach to increasing breast volume. This method was actually sanctioned by the Thai government as an official nonsurgical option for breast augmentation.
Birth control pills might increase breast size to a small degree.
Breast enlargement pills are usually all hype and no action. Many claim incredible results, but be sure to read the fine print.
Herbal breast enlargement products might help increase breast size in some women. At least most of these products are all natural and will not usually be a health risk.
Hypnosis has been proven effective in increasing breast size.
Brava System is an effective nonsurgical product, but is quite expensive.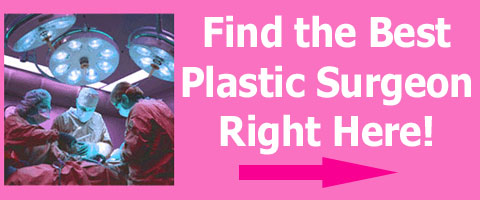 Nonsurgical Breast Enlargement Advisory
There is a fine line between products and services which actually work and those which do nothing at all.
Most nonsurgical methods of increasing breast size claim "conservative results", which is another way of saying the treatment might have little effect.
Big changes in breast size are not likely with the majority of these nonsurgical options, but there is always an exception to the rule.
If you are not ready to commit to surgical breast augmentation, it might be a good idea to research your nonsurgical options. Some of these products and services are inexpensive, making them obvious choices to try first.
All natural products are always preferred to any treatment which might have some known or unknown negative health effects. When in doubt, talk to your doctor about your options before beginning to use any product or treatment.
You can enlarge your breasts without surgery safely and effectively. In fact, nonsurgical enlargement is the easiest of all noninvasive breast enhancement goals. We detail the best practices for you in our best selling book: Better Breasts Without Surgery. You can get immediate help with your breast enlargement needs around the clock and worldwide.